About Funding Navigation
Never before has this amount of federal funding flowed into states, counties, and local communities in such a short amount of time.
There is a need for people who understand how to innovate and who can help guide others to navigate funding opportunities. What does that mean? Someone who can navigate funding can use a systems perspective to find the money in system. They bring a systems perspective, a willingness to innovate, and expertise to help local collaboratives and states conceptualize, design, and financially support equity-advancing initiatives.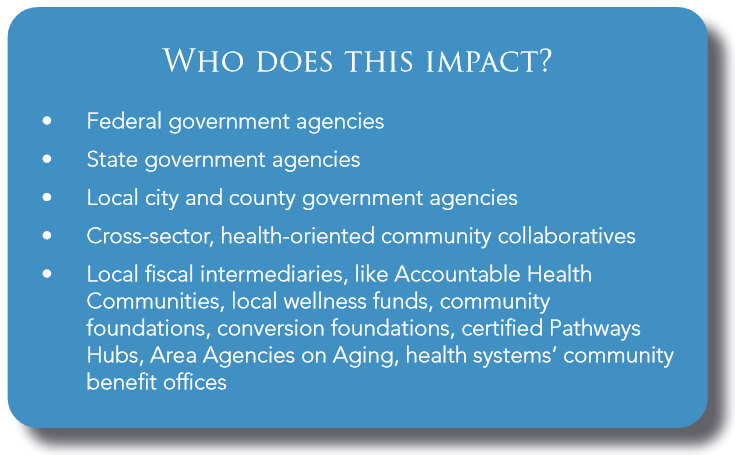 People with funding navigation skills will ...
Educate others about federal funds
Think strategically
Envision a desired future
Build strong relationships with the community
Advance equity
Understand local needs
Find money in the system
Identify and engage partners
Think sustainably
Innovate solutions
Design opportunities for all
Local communities, counties, and states are seeking information that can guide them in how to best leverage COVID-19 relief and recovery funds in a way that balances immediate needs with the desire to be transformative and address root causes of inequities.As part of its Aligning in Crisis work, the Georgia Health Policy Center, in partnership with George Washington University and with support from the Robert Wood Johnson Foundation, identified four principles that government agencies and local fiscal intermediaries, like health-oriented community collaboratives, can use to guide planning for use of COVID-19 recovery funds.
Key Principles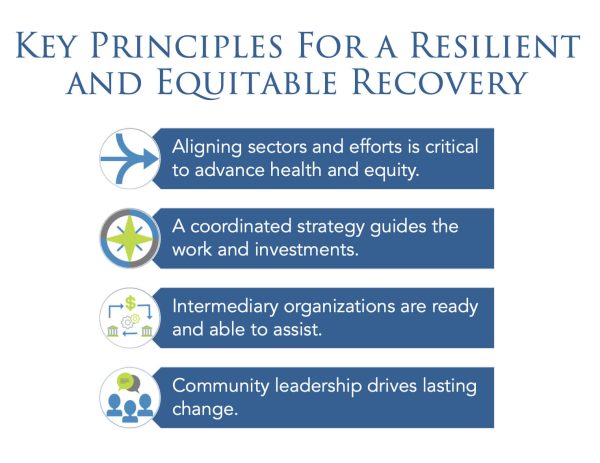 Aligning sectors and efforts is critical to advance health and equity.
Social and economic factors like housing, food, education, and trauma have a major effect on health. Addressing these complex, community-level barriers to good health requires fundamentally different ways of working across the health care, public health, and social services sectors. An approach that deploys the siloed federal relief and recovery investments in a holistic way can address disparities and advance equity for generations to come.
A coordinated strategy guides the work and investments.
The sheer magnitude of federal COVID investments requires thoughtful planning. While the funds flow in silos, it is important to have strategies at the state and local levels that demonstrate how, when blended or braided together, these funds can be used to implement a comprehensive vision for more resilient states and communities. The most effective strategies will be goal-oriented and community-driven.
Intermediary organizations are ready and able to assist.
On-the-ground organizations including local foundations, public health institutes, community coalitions and collaboratives, and community development financial institutions can partner with cities, counties, and states to plan and carry out the work. These types of organizations have deep expertise and experience convening cross-sector partners and community members for planning purposes and serving as fiscal intermediaries who can manage and "braid" the different funding streams in cohesive, coordinated ways.
Community leadership drives lasting change.
Amplifying the voice of community members is imperative at each step in the planning and implementation process to ensure changes are truly driven for and by residents. Community ownership, participation and leadership helps ensure the vision reflects the true needs and goals of the community, particularly residents most affected by the COVID-19 pandemic, the resulting economic struggles, and the ongoing impact of systemic racism. Intermediary organizations often have strong relationships with community members.
Federal Funding Learning Process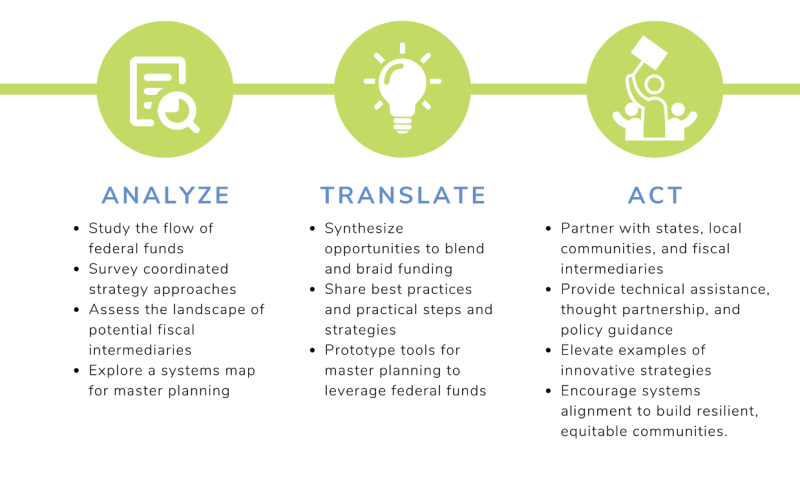 Researchers from the Georgia Health Policy Center, Georgia State University, and George Washington University analyzed the funding and known best practices and then shared strategies to help states and local communities prepare for the influx of funding, plan for sustainability, and design innovative strategies.
Interdisciplinary researchers from across economics, law, public health, social work, and urban planning, brought specific expertise in:
access to care
aligning across sectors
behavioral health
community health systems development
health care financing
housing
labor
land use
local wellness funds
long-term services and supports
rural health
Through this process, the team identified challenges and pitfalls from previous federal funding opportunities. The following themes emerged that informed the design of the training and tools found on this site.
Address organizational or collaborative needs.
Communities need assistance in assessing their readiness and capacity to leverage this funding opportunity. Communities also need immediate practical support and information on how to access these funds.
Plan to overcome risks and develop accountability.
Over the mid-term, it is important to urge communities to slow down and build strategies to mitigate potential risks, including thinking strategically beyond immediate needs, and sharing power with community members who have lived expertise and the greatest needs.
Think big.
Over the long-term, communities should think upstream and how to broadly promote equity and resilience. Communities can create the greatest impact by leveraging existing investments and initiatives and how to expand partnerships across sectors and across geographies (to think regionally).
This website was created as part of the Aligning in Crisis project, a collaboration between the Georgia Health Policy Center and George Washington University, with support from the Robert Wood Johnson Foundation. The Georgia Health Policy Center is solely responsible for the content of this website, which does not necessarily reflect the views of the Robert Wood Johnson Foundation.
Further support for this work was provided by BlueShield of California Foundation and the Claudia Lacson Memorial Fund.

The Georgia Health Policy Center would also like to acknowledge Tim Male, executive director of the Environmental Policy Innovation Center, for sharing his knowledge and expertise around the concept of "funding navigators".
Local Wellness Funds: Advancing the Practice
The Georgia Health Policy Center developed online resources containing practical tools and information for those developing a local wellness fund, as well as anyone looking for a way to grow the impact of collective investments in community health and well-being.
This website contains a mix of hands-on activities and insights to help communities explore collaborative investment in the following areas:
Sources

: Where does the money come from?

Uses

: What will the fund be used for?

Structure

: How do we manage, administer, and provide stewardship for pooled funding?

Contextual factors

: How does the external environment impact the success of collaborative investments?

Cross-cutting factors

: What factors impact the ability for partners and community to work together?
The resource guide provides tools, guidance, and insights that will strengthen your community's ability to work together, find the resources, and develop a strategy for sustained impact.
Welcome to the TEAM! A Toolkit for Everyone Aligning and Measuring.
From the beginning of the Aligning Systems for Health initiative, there have been frequent calls for tools to measure aligning — how effectively health care, public health, and social services are working together to address the goals and needs of the people and communities they serve.
The TEAM is designed to help people think about measurement of health collaboratives' ability to align across sectors. The site contains three assessments and a searchable database of measures that users can pull from targeting their area of focus.
The material in the TEAM is designed to be downloaded, taken into the field, and most importantly, used. The uses and application are near limitless. Measures can be used in surveys, evaluations, strategic planning, interviews, funding applications, accountability reports, etc.